Golden Cordovan 2022 Single Story Hive PICKUP ONLY DELIVERY NOT AVAILABLE
This Item is not available for delivery.  Pickup only please.
The Texas Bee Supply Golden Cordovan™ is now available for sale! Choose your pick-up location and date when ordering!
You will receive pick-up instruction emails the week prior to your pick up date.
You can pick-up your bees on your date anytime between 2:00PM and 7:00PM
The extremely gentle Golden Cordovans™ are from the Cordovan family, which originates from the Italian family. They are light in color, can range from almost white to reddish. Bees can darken with age so there will be a range of shades in a hive. This is the most gentle breed available, excellent honey producers and bred with VSH traits.
Not sure which breed is right for you? Check out this comparison chart of the breeds we offer.
- Comparison Chart for bee breeds or Decision chart
- 10 Frame box with 9 frames installed
- 2022 laying Cordovan queen
- New 2022 painted box
- New painted telescoping lid
- New inner cover
- New painted screened bottom board
- Minimum 3 frames of brood
- Healthy Hive Guarantee!
- Texas Bees
- 7 day money back promise
NOTE: Golden Cordovans are not available the first week of 2022 bee pickups. If you want to pick up Golden Cordovan Bees along with TX5000 Bees please  choose a week they are both available.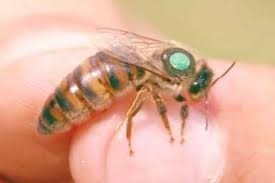 - Click here for pick-up information and guarantee details
If your selection says "out of stock" try another day/time combination for your order.